Laboratory Austria
Opening | 21.03.2013, 7.00 p.m.
Duration of the exhibition | 22.03.2013 – 28.04.2013
Venue | Academy of Fine Arts Vienna, main building, Schillerplatz 3, 1010 Vienna, xhibit
An exhibition as part of MemScreen, a research project funded by the Austrian Science Fund (PEEK call 2010–2012).
Opening hours: Tue–Sun, 10.00 a.m.–6.00 p.m., free admission
Special opening day: 01.04.2013, 10.00 a.m.–6.00 p.m. (Easter Monday)
Participants: Tal Adler, Michal Bar-Or, Friedemann Derschmidt, Shimon Lev, Karin Schneider
Curators: Tal Adler, Friedemann Derschmidt, Karin Schneider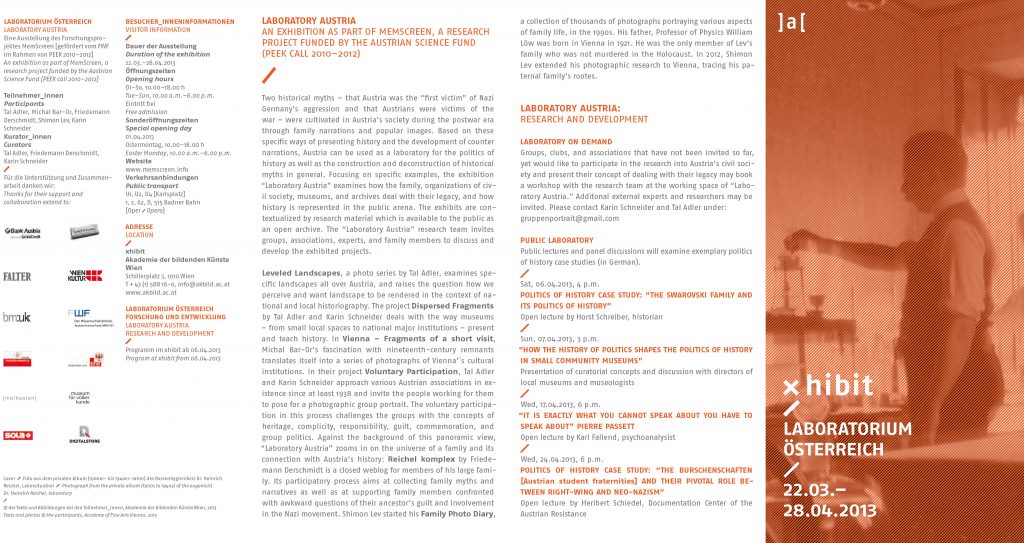 Photograph from the private album (1900s to 1940s) of the eugenicist Dr. Heinrich Reichel, laboratory
Opening | Thu, 21.03.2013, 7.00 p.m., xhibit
Welcome address | Eva Blimlinger, Rector of the Academy of Fine Arts Vienna
Opening | Karlheinz Töchterle, Austrian Federal Minister of Science and Research
Two historical myths – that Austria was the "first victim" of Nazi Germany's aggression and that Austrians were victims of the war – were cultivated in Austria's society during the postwar era through family narrations and popular images like that depicting Vienna's St. Stephen's Cathedral on fire. Based on these specific ways of presenting history and the development of counter narrations, Austria can be used as a laboratory for the politics of history as well as the construction and deconstruction of historical myths in general. Focusing on specific examples, the exhibition "Laboratory Austria" examines how the family, organizations of civil society, museums, and archives deal with their legacy, and how history is represented in the public arena. The exhibits are contextualized by research material which is available to the public as an open archive. The "Laboratory Austria" research team invites groups, associations, experts, and family members to discuss and develop the exhibited projects.
Leveled Landscapes, a photo series by Tal Adler, examines specific landscapes all over Austria, and raises the question how we perceive and want landscape to be rendered in the context of national and local historiography.
 
The project Dispersed Fragments by Tal Adler and Karin Schneider deals with the way museums – from small local spaces to national major institutions – present and teach history.

In Vienna – Fragments of a short visit, Michal Bar-Or's fascination with nineteenth-century remnants translates itself into a series of photographs of Vienna's cultural institutions.
 
In their project Voluntary Participation, Tal Adler and Karin Schneider approach various Austrian associations in existence since at least 1938 and invite the people working for them to pose for a photographic group portrait. The voluntary participation in this process challenges the groups with the concepts of heritage, complicity, responsibility, guilt, commemoration, and group politics. Against the background of this panoramic view, "Laboratory Austria" zooms in on the universe of a family and its connection with Austria's history: Reichel komplex by Friedemann Derschmidt is a closed weblog for members of his large family. Its participatory process aims at collecting family myths and narratives as well as at supporting family members confronted with awkward questions of their ancestor's guilt and involvement in the Nazi movement. Shimon Lev started his Family Photo Diary, a collection of thousands of photographs portraying various aspects of family life, in the 1990s. His father, Professor of Physics William Löw was born in Vienna in 1921. He was the only member of Lev's family who was not murdered in the Holocaust. In 2012, Shimon Lev extended his photographic research to Vienna, tracing his paternal family's rootes.

Laboratory Austria: Research and Development
Program at xhibit from 06.04.2013